SCHEDULE
| Rounds | Start date | End date |
| --- | --- | --- |
| Orientation | 24-03-2022 | 24-03-2022 |
| Trial debates | 28-03-2022 | 28-03-2022 |
| Skirmish 1 | 29-03-2022 | 31-03-2022 |
| Skirmish 2 | 01-04-2022 | 04-04-2022 |
| Skirmish 3 | 05-04-2022 | 07-04-2022 |
| Combat (2) | 08-04-2022 | 09-04-2022 |
| Confrontation | 11-04-2022 | 11-04-2022 |
| Face Off | 12-04-2022 | 12-04-2022 |
1. Fill in registration form signed by parents
2. Soft copy of Student ID Proof from institution
3. Soft copy of latest passport size photo
4. Details of Registration payment of Rs.500/- made (soft copy of Payment report, reference no. etc )
5. Participation fee can be paid
to the bank details given below : Name : Verbattle
Bank : Bank of Baroda
Account No : 07640200003423
Type : Current account
IFSC Code : BARB0JAYANA
Branch : Bank of Baroda, Jayanagar 3rd Block, Bengaluru
MICR Code : 560012010
(OR)
6. All above details to be submitted to respective institutions. Institution to consolidate and submit registration of total participants to events@verbattle.com
7. Registration fees will not be refunded under any circumstances. Please refer last page of registration form for event rules.
8. Detailed instructions will be conveyed to the registered students before the Competition.
Topics for Finals of Verbattle Speech Competition:
1) Passion is more important than ambition for success.
2) Technology is becoming too intrusive in human life.
3) Sense of beauty is a joy forever.
4) James Webb Telescope is going to make human beings change their concepts about the outer space.
5) Poverty is also a state of mind.
6) Indian economy is not as good as it is portrayed to be.
7) Emotion in politics makes a democracy weak.
8) It is important to instill national pride in children.
9) Linguistic chauvinism is essential to an extent in the modern-day world.
10) Scientific temperament in citizens makes a society progressive.
11) Too much good is too bad.
12) Cricket is not an exciting game anymore.
13) Societies world over will be less religious in the future.
14) The present-day education breeds inequality.
15) It is certain that Tech companies are facing a bleak future.
16) The teacher should be respected by the student.
17) A leader should not be afraid of criticism.
18) Freedom is more valuable than wealth.
19) Thoughts become stale when documented.
20) Making money cannot be a goal in life.
21) It is better to rent a house than buy one on loan.
22) Present day teachers are being confused about the objectives of education.
23) A child should be encouraged to speak his or her mind.
24) One can learn some social skills from Social Media.
25) Science takes away the mystery from life.
Topics for Verbattle Speech Competition:
1) Multicultural societies are more stable.
2) Scientific temperament makes a person a rational being.
3) Education alone cannot make a person a better human being.
4) Pet animals bring out the best qualities in a person.
5) Hard work is the only way to success.
6) Education should make children better learners .
7) India should concentrate on human development than infrastructure development.
8) It is important to have ethics in everything.
9) We should take climate change very seriously.
10) Ayurveda should be popularised.
11) Everyone can benefit from yoga.
12) Electrical vehicles should be the only mode of transport.
13) Meritocracy is a flawed concept.
14) Politicians are not interested in eradicating poverty.
15) Crypto currency is only a fad.
16) Cricket does not have that in it, to become the most popular game in the world.
17) Elon Musk is a true icon.
18) Young people should consider politics as a career.
19) Sense of money should be developed in children from a very early age.
20) Freedom can be enjoyed the best, only when you know its limitations.
21) It is good for Indians to let go of their love for gold.
22) Too much history can take a society backward.
23) Gardening is a very enriching hobby.
24) A human being is complete with all his or her flaws.
25) Negativity is the fuel for failure in many peoples' lives.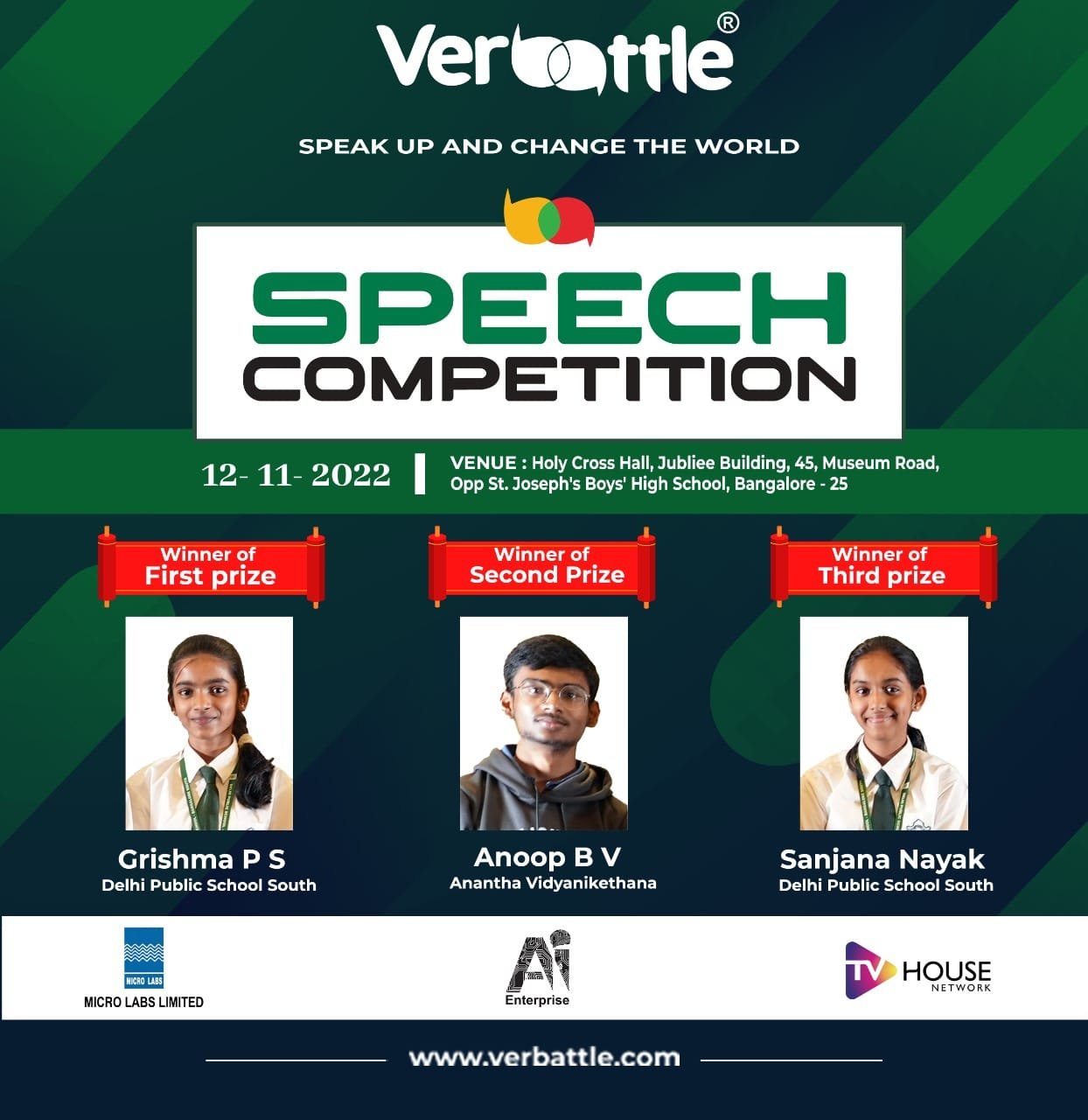 COMBAT STATEMENTS:
1. Serious friendship is a waste of time in the present day world.
2. Most laws favour women.
3. Male teachers are better than female teachers.
4. Morals should be separated from religion.
5. Power corrupts more than money.
6. Dependence on technology will be a thing of the past in the future.
7. Youth has caused economic slowdown all over the world.
8. Respect cannot be demanded or enforced.
9. Love is not an emotion.
10. Scientists are fundamentalists of a different kind.
11. Protest is an integral part of democracy.
12. There is no cure for racism.
13. Democracy does not foster merit.
14. Poor people are more generous.
15. There is more fiction than fact in Astronomy.
16. Money is the most wonderful human invention.
17. Equality of men and women is just a civilizational aspiration.
18. Emotional people make better leaders.
SKIRMISH STATEMENTS:
1. People in general love to hate.
2. Silence is golden.
3. Arrogance blinds intelligence.
4. Teachers cannot be blamed for a student's conduct.
5. You can gain respect with good English.
6. Science is nothing without math.
7. Movie actors should not be taken seriously.
8. There is no absolute good in this world.
9. Jealousy helps a person to grow.
10. Scientific temperament in a person has nothing to do with the person's education.
11. Cynicism is more regressive than jealousy.
12. You need to have some guilt to do good for society.
13. TV has made young people disregard values.
14. Taller people are taken more seriously.
15. Mahatma Gandhi will always be a global saint.
16. Texting is better than speaking.
17. Present day youth have a poor sense of money.
18. Majority of young people are talkers and not doers.
19. A person cannot be considered humane just because he/she loves animals.
20. History is a burden on the psyche.
21. Men should wear makeup.
22. The society of the future will be more conservative.
23. Greed is the cause of all problems.
24. Nationalism is the cause for most wars.
25. Fame is an intrusion.
26 Social Media corrupts human judgment.
27. This is the age of self-importance.
28. Poetry is no more mainstream literature.
29. Social media should be a subject in school.
30. Fundamentalism has little to do with religion.
31. More the intelligence, more the stupidity.
32. A friend who does not help financially is not a friend.
33. Those who don't dream are practical.
34. Self-glorification is an ironical manifestation of self-pity.
35. Science is superior to truth.
36. False humility is more dangerous than arrogance.
37. Forcing a child to learn math is a crime.
38. Elon Musk is only a celebrated dream.
39. Honesty is the worst policy in business.
40. If you don't like science, then you are regressive.
41. Liars are creative people.
42. Many skills are better than one big talent.
43. Patriotism is a romantic idea.
44. Artists have become craftsmen in an era of technology.
45. It is impossible to regulate social media.
46. Hate is more powerful than love.